ITS Hungary Honour of Excellence prize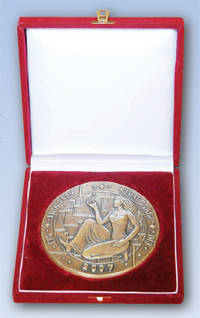 The General Assembly Meeting of "ITS Hungary Association" was held on May 26 2008.

The awarding ceremony of the prize "ITS Hungary Honour of Excellence" took place for the second time in a remarkable event of the General Assembly Meeting. The Prize has been introduced by the Board of the Association with a view to rewarding the most excellent innovative ITS projects of high national returns and inventive solutions implemented by the members of the Association, and establishing a new tradition. "ITS Hungary Honour of Excellence 2008" has been awarded to "HITS – Hungarian ITS Framework Architecture", a product of COWI Hungary Ltd. by unanimous decision of the Selection Committee.

As a summary of the HITS results, it can be claimed that by accepting the pioneering aims of the FRAME Programme, Hungary has joined one of the most recent ITS developments/researches of our times. Within the CONNECT Programme, the creation, dissemination and the enforcement of the use of the HITS Framework Architecture potentially result in a situation wherein the developments of intelligent transport systems give rise to harmonized, mutually adaptable, compatible and modularly structured systems that are easy to improve.

The "ITS Hungary Honour of Excellence" medal and the prizes and certificates were delivered to the winner by General Director of Roads, Mr. Lajos Szűcs, Ministry of Economy and Transport, emphasizing the future role of intelligent traffic systems and highlighting the pioneering efforts of the Association in this field.

The General Meeting also offered an opportunity for the admission of new members, thus the membership of ITS Hungary Association has increased to 40.
Last update:2009